1. "MOMENTE" agité (ou secoué): Dépéchez-vous

restless, shaken (or rocked): Hurry up

3:15

Acknowledgment to Karlheinz Stockhausen

2. Vos cagoùles n'ont pas d'oùvertures? [download mp3 3.3mb]

Your cowls have no openings?

3:31

Acknowledgment to M. A. Ingegnerie, the professor of Palestrina

3. Rituel des Morts (-dû à la tête)

Ritual of Deaths

11:24

Acknowledgment to death music

4. Con[voix]sanstraction avant l'exploit:

concentration before the feat

6:00

Acknowledgment to firemen from Rieumes [31] France who saved Shadow Sky 's life in 96

5. Femmes

women

9:09

Acknowledgment to women from Russia

6. what it remind you?

qu'est-ce que ça te rappelle ?

1:30

Acknowledgment to memory

7. Plikiz has a bad dreams

Plikiz fait de mauvais rêves

3:40

Acknowledgment to bad dreams

8. remember again

rapelles toi encore

0:30

Acknowledgment to memory

9. pourquoi

why

5:30

Acknowledgment to people who says why?

Myster Shadow-Sky
voice and sampled voices
sampler
computer
composition
artwork
Trapped, Mixed & Mastered @ Le Centre De La Bombe [Forgues/France]
Mathius-Shadow-Sky-Unexpected-Waves-Production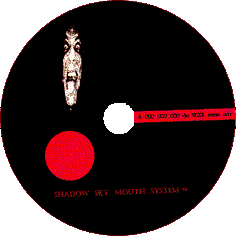 in the album
"MOMENTE" Agité (ou secoué) : dépéchez-vous, is a re:composition of Karlheinz Stockhausen's piece: "Momente," the 1964 version. The focus was to create a paradoxical folkloristic sound with serious contemporary music. Vos cagoùles n'ont pas d'oùverture ? is a digestion of Renaissance voices from the famous Palestrina master M. A. Ingegnerie. The piece in short duration represents the agony, the culture of drama in our Western civilization but regenereted. Rituel des Morts (dû à la tête), has a requiem form. The music was composed with one complex sound on different pitch and chord (choir, organ, detuned electric guitar, gong plate.) Rituel des Morts (dû à la tête) is an obsession of Western culture Drama. Consangstraction avant l'exploit, is a piece dedicated to the Rieumes firemen who saved mathius' life in 1996. Femmes, is a piece made with the Women Choir from Moscow with mathius shadow-sky on percussion and synthesizer. what it remind you? about recorded music and dead people commemoration. Plikiz has a bad dream, is mathius drama voice with bowed nails choir and percussion. remember again, about recorded music. pourquoi was created with one sample, of mathius saying "pourquoi" : why in French.

6 BILLION VOICES WITH NO AIR
[in French, "air" means in English air to breath and also tune : we breath air and we sing an air: a melody, a tune: here it is 6 billion of people living without melodies.]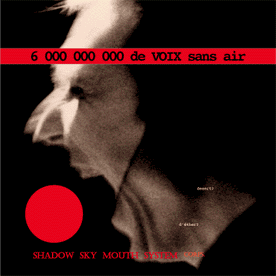 Voice music beyond Western History
The concept of Shadow-Sky-Voices-System
[I] is to mix voices beyond time and space,
put together different aspects of voices historically and geographically perceived as different.


Others voices
Others voices
Others voices
Others voices
Le disque du centre de la bombe or B.C. records label GO
le centre de la bombe mapping page GO