".s p i n e. o f. l i f e. i s .r e f l e c t i o n "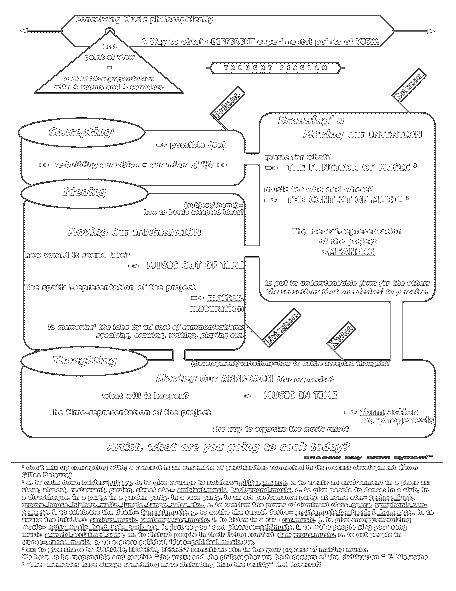 Conceiving Music philosophically

A Way to obtain DIFFERENT experimental points of VIEW.
thought unlinear thinking
1rst
point of view
=
a matrix-representation
with 4 ROOMS and 4 CORRIDORS.
Bedroom
Concepting [1]
=> possible (#n)
>> re-building our vision = our mirror of life >>
Bathroom
Scanning' n
Moving Our INTENTION
music for what?
=> THE FUNCTION OF MUSIC [2]
music for who and where?
=> THE CONTEXT OF MUSIC [2]
The mental-representation
of the project
>meaning
to put in understandable form for the others the sensations that one desires [3] to perceive.
Livingroom
Ideaing
(subject/theme)=
how to battle accepted ideas?
Moving Our IMAGINATION
how would it sound like?
-> MUSIC OUT OF TIME
The spatial-representation of the project
=> matter.
maturation
To memorize [4] the idea by all sort of communications: speaking, drawing, writing, playing etc.
Kitchen
Thoughting
(development/variation)=how to battle accepted thoughts?
Moving Our APPROACH blur or precise?
what will it happen? -> MUSIC IN TIME
The time-representation of the project => form.action
morphogenesis
The way to organize the music result
Artist, what are you going to cook today?
---
NOTES

[1] don't mix up concepting with a concept which is an ensemble of peculiarities connected in its process development.

[2] a. to calm down babies=lullaby, b. to give courage to soldiers=military march, c. to create an environment in a place as: store, airport, restaurant, garden, street etc.= ambiant music, background music, d. to give people to dance: in a club, in a discotheque, in a party, in a garden party, in a rave party, in an art performance party, at home etc.= techno, funk, groove, house, hiphop, waltz, jungle, tango, salsa, etc., e. to confirm the power of dominant class=opera, symphonic concert etc. f. to celebrate the death= funeral music, g. to awake the sexual desire= erotic music for brothel, home etc., h. to awake the intellect=serious music, contemporary music, i. to listen in a car= car music, j. to give energy:energizing music= noisy music, hard rock, punk, etc. k. just to your own pleasure=selfmusic, l. to make people sing your song music=a world acclaimed song, m. to disturb people in their living comfort=dangerous music, n. to get people in trance=trance music, o. to express political ideas=political music,etc.

[3] ex: to give shape to HUMOUR, EROTISM, ecstasy sensations etc. in the your process of making music.

We have to be responsible and careful: "the artist and the philosopher are both doctors of the civilization" F. Nietzsche

[4] "The memories have always something more disturbing than the reality" H.P. Lovecraf
---
Shadow-Sky-Brain-System