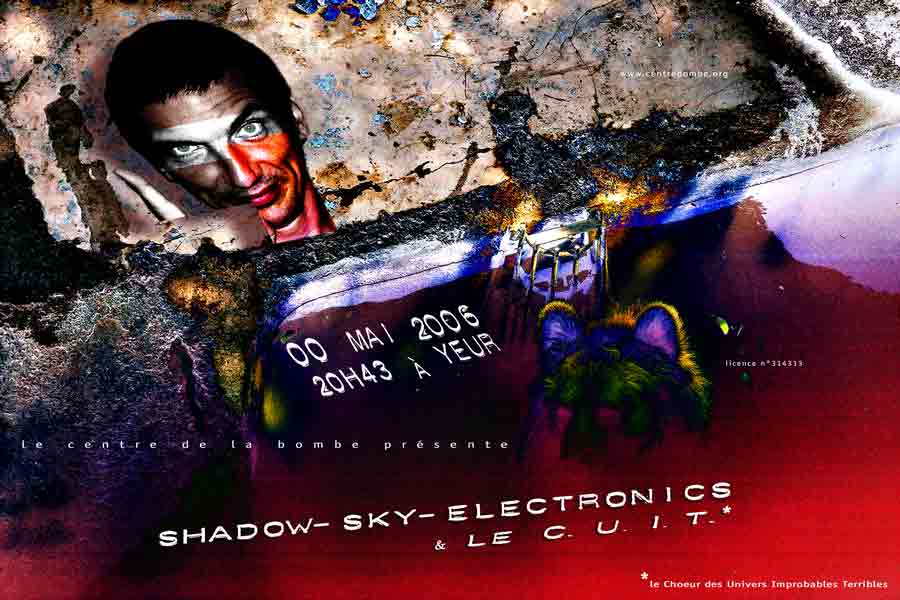 Therefore you will soon listen vocal music with 8 Humans voices singing dreadful improbable Universes.
ILS MACHENT EN CHINE LA RACINE DU VIT
ET MACHIN NIQUE LA RAT-CHIENNE DIVINE
MAIS LES MACHINES ENRACINENT LES VIES
EN MACHANT L'ECHINE DES SAGES
MAIS LES MACHINES EN CHINE S'ENRACINENT
ET LES MASSES DE CHINE S'IMAGINENT
QUE LA CRASSE DECLINE.
myster shadow-sky
next voice music from the myster shadow-sky's raw music will be now cooked? Why? Because in French Cuit=Cooked and in French his Choir of Dreadful Improbable Universes=le
C
hoeur des
U
nivers
I
mprobables
T
erribles is CUIT (in other term it could be fucked up too: cuit). But this cooked music becoming from Shadow-Sky could be a lie. He never created music to entertain people or to flatter their arrogance. Shadow-Sky creates music to discover unknown worlds.
This work could be the continuation of "
tha raw voice of cooked exil
" created in Rio de Janeiro in 2000 but now with 8 singers: 2 high female voices, 2 low female voices, 2 high male voices, and 2 low male voices; with myster shadow-sky conducting and playing electronics. No screen shooter in this performance, but 3D moving sound in polypaths for each voice. I am curious how it will sound?
+
no episode or #no: œuvre U-nique work

in Toulouse (France) some singers are interested to release this project:
the C.U.I.T. (le Choeur des Univers Improbables Tendres ou Terribles) with :

Stéphanie Marchesi (soprano)
Iris Lancery
(soprano)
Anaïs Andret-Cartini (alto)
Françoise Guerlin
(alto)
Stéphane Marcaillou (ténor)
Christophe Rulhes (ténor)
Joseph Mairiniac (basse)
myster shadow-sky*?
(basse)

*composer, conductor and machines player