Here you are in the webart lab. of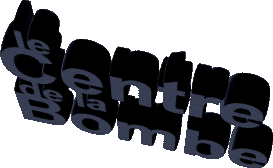 ARE YOU EXPERIENCED A JOURNEY EXPLORING HIDE SIDE OF ELEMENTARY RHYTHM OF MATTER ?
avez-vous expérimenté, une aventure explorant la face cachée du rythme de la matière ?
THE .EXPLOITATION .OF .ELEMENTARY .RHYTHM .OF .MATTER
vous voici dans l'exploitation du rythme élémentaire de la matière.

?
play this hide
and seek exploration
game in the
center of bomb labyrinth

To exist this webart-electronic-book
require
your
_curiosity_

and your
_wisdom_

jouez le jeu de l'exploration, un cache cache dans le labyrinthe du centre de la bombe.
Pour que ce livre électronique de la toile existe, il demande votre curiosité et votre sagesse.
_-_-_-_-_-_
now cross the centrebombe river | maintenant traverse la rivière du centrebombe
| | | |
| --- | --- | --- |
| | | |
to follow the philosophy which will come to you | pour suivre la philosophie qui vient à toi
IF WE DON'T MOVE,
NOTHING WILL HAPPEN
SOME MORE HERE IS
ELEMENTARY RHYTHM OF MATTER'S BASICS
LONG SOFT CURTAINS: THE LIFT
TO THE CENTRE OF THE BOMB
TOURIST
[WEBARTLAB™places in progress]
POMOC DO GROBA
new generation artist
RIO
play your own music with mathius shadow sky's sounds
MAthius makes ELE_ctropainting LIke he makes MUsic
uncompleted In-deX FOR THE ONE WHO DOESN'T WANT
TO FEEL THE PLEASURE OF UNEXPECTED DISCOVERIES
TO NOT DISTURB OUR BECOMMING_in TIME
copyLEFT 1998, le centre de la bombe