1984 Mathius Shadow-Sky created:
THE EPHEMERODES CUARD* OF CHRONES
* To cuard means: to generate to sound time = to untangle the fibres of time (from French "carder")
Eternal keyboards Orchestral music game for infinite False gods (= humans) in relay
TO START FROM WHAT IS KNOWN TO GO BEYOND IN THE UNKNOWN;
The 7 layers of knots in loop represent each humankind family member:
mother, father, grand mother, grand father, sister, brother and the 7th? the other? the stranger.
This Ephemerode music of elastic time is a play of our own projections of familiar characters interacting in looped knots.
A LOOP IS A KNOT .
A KNOT IS A CONTRADICTORY BEHAVIOUR
WHERE DOMESTICATED HUMANS LIVE TRAPPED IN LOOP
WITH THEIR DEFENCE MECHANISMS
7 layers 1 per family member present the entire loop of the music
in which there are infinite loops: KNOTS (as cellular changing organisms)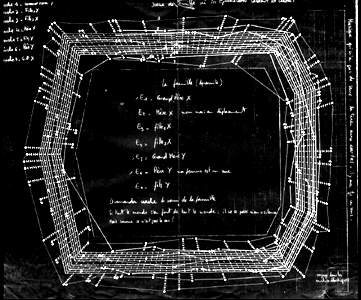 A family among other families in the orchestra leaving the familiar.
The variation principle of the Ephemerode music is:
REPEAT DIFFERENT LOOPS FROM DIFFERENT FAMILIES
WITH AT EACH TIME A DIFFERENT RHYTHM.
Like Time and Rhythm, Tones (= frequencies) are also elastic
Because all 7 keyboards are perpetually tuned on different nonoctave scales
by the theory called: The Nonoctave Scalar Fields music theory.
The notes played are never the written/projected pitch.
A group of notes shapes a loop starting with 1.
Example of a fixed pitch loop in rhythm variation:

When an Ephemerode leaves the music, leaves the orchestra to let the keyboard to an other Ephemerode performer, s/he plays the D#1 pitch: this is the only one fixed pitch of the music.
This principle has been cancelled in 2013.
It is not necessary to signal by a sound the leaving of an Ephemerode.
USEFULL LINKS TO ENJOY AND PERFORM THE MUSIC GAME
the 1984 Ephemerodes Sonic Architecture in a drop ephemeral building
The precise presentation of the Ephemerode game music in French with the game-score for free
The Nonoctave Scalar Field music Theory who shapes the polyscalar harmony of the Ephemerode music
The solo performance by one Ephemerode in 2013
The Book of Ephemerodes published in 2018
The Ephemerode game music performed by Les Guitares Volantes in 2020
The discography of the composer available for free