Olga Szwajgier & Mathius Shadow-Sky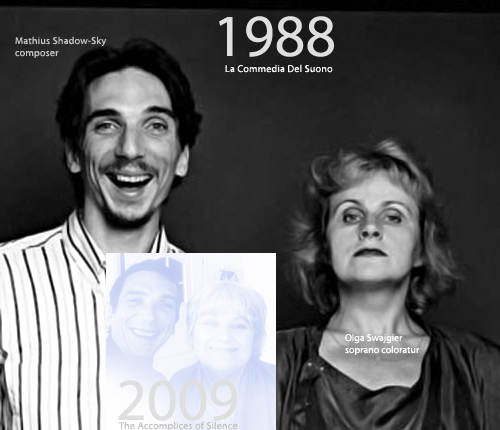 picture: Andrzej Tyszko
The soprano coloratur opera singer Olga Szwajgier with the composer Mathius Shadow-Sky
during the creation of LA COMMEDIA DEL SUONO in Warsaw in 1988, and in Krakow 31 years after
The incredible voice of Olga Szwajgier
The voice of Olga Szwajgier is impregnated by love, classical coloratur, and the particular traditional singing of the Polish Carpathian mountains, where she was born. She has developed an original and unique technique based on ultra high harmonic pitches modulations of the vocal spectrum. A Swedish critic called her "the laser voice"! She interprets contemporary scores composers like Lutoslawski, Penderecki, etc., and have a deep sense of improvisation. She is one of the most incredible interpret of the Night Queen in the Magic Flute Mozart's opera. Olga Szwajgier dares to sing humor, sex, madness, and feels no shame for appearing on stage in a red green-spotted "deshabillé!" Her exceptional voice has consecrated her the Diva of contemporary avant-garde music.
« Szkoda życia śpiewać bez miłości, szkoda życia »
« Dommage pour la vie, de chanter sans amour, oui dommage pour sa vie »
"Pity is life, singing without love, yes pity"
Olga Szwajgier
ONO LULU FILHARMONIA is the name of the orchestra [composed with Mathius Shadow-Sky + Olga Swajgier + Michal Zduniak + Tadeusz Sudnik + guests]
ONO is the giant [double] string puppet DRUMS: its body and its head
LULU is the giant [double] string puppet TUBULAR BELLS: its body and its head
Bourges 1990: SPECT-À-CUL par le ONO LULU FILHARMONIA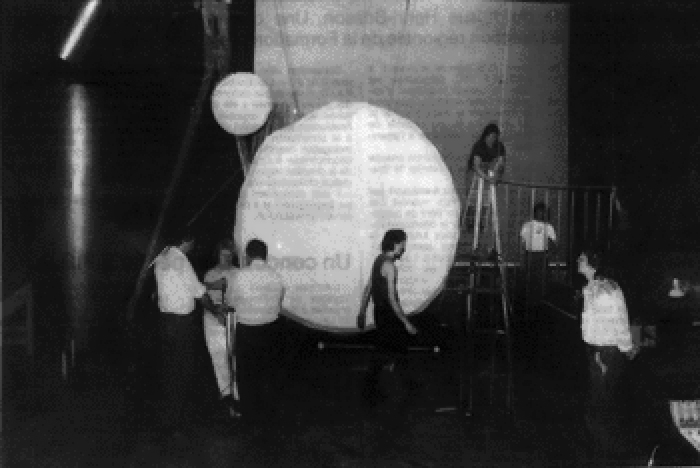 ONO and LULU, the 2 giant DRUMS and TUBULAR BELLS strings puppets CREATED AND LOST FOR THE MUSIC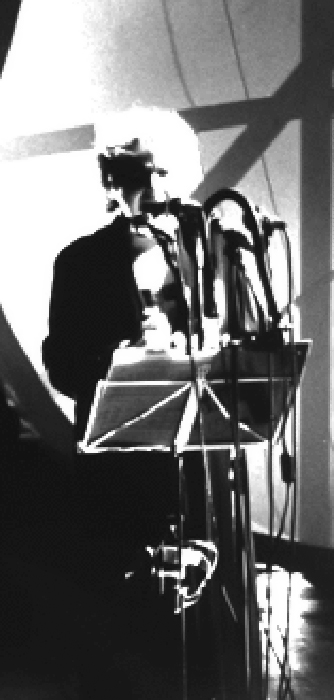 SCREAMING THE VOICE FLYING
INVASION OF GOVERNING PARASITES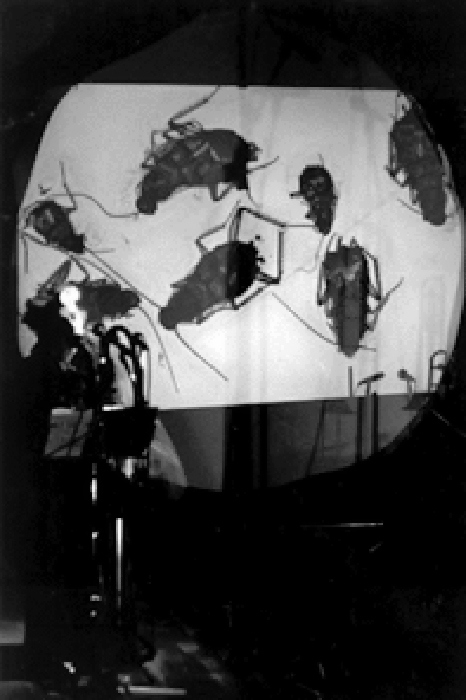 INSIDE THE QUADRASONIC PYRAMID SPACE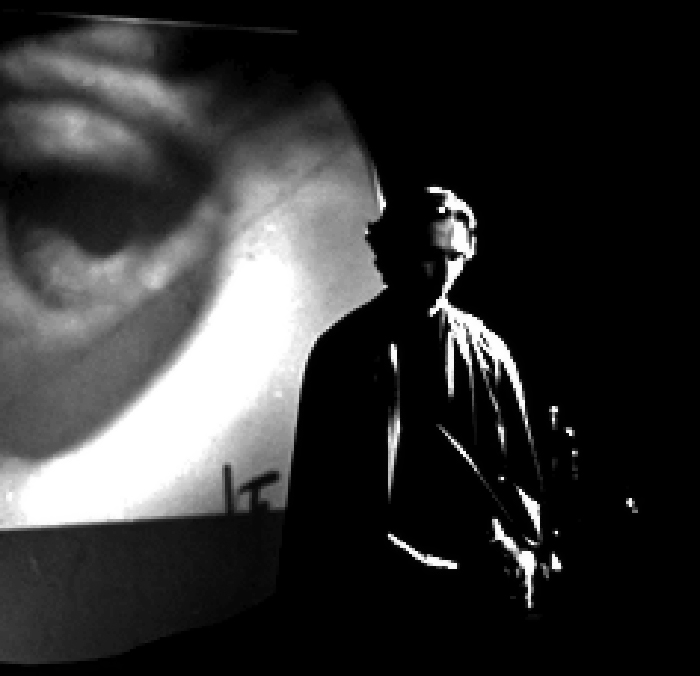 RITUAL OF THE EYE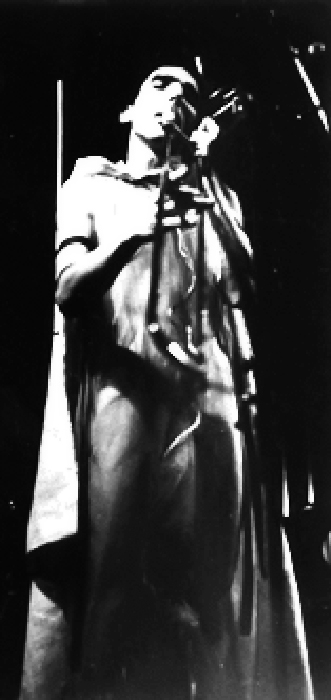 NAKED TROMBOSAX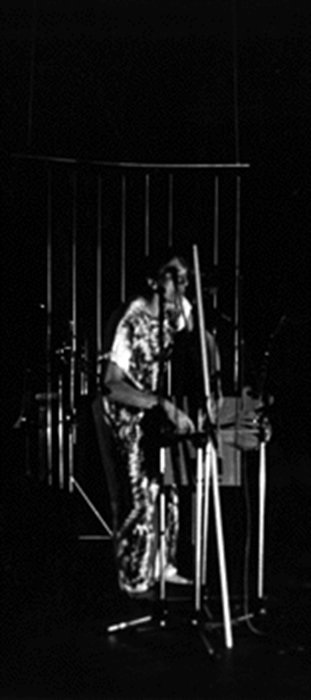 NONOCTAVE TUBALUS & THE BAUHAUS CELLOCUBIC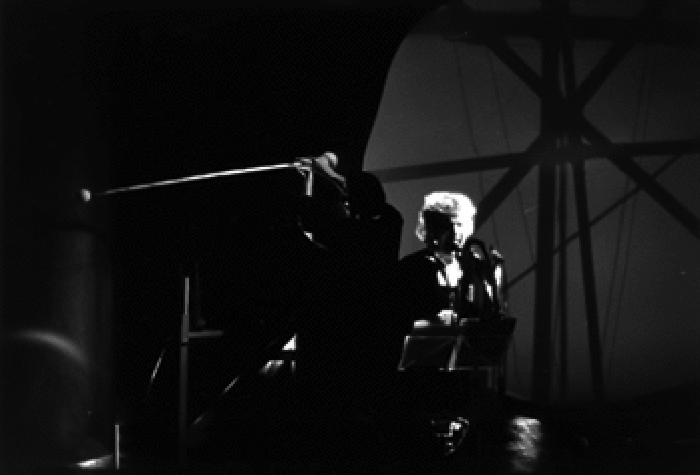 FINALE, ONO LULU FILHARMONIA SCREAMING'N BANGING
Bourges 1990, photos: Agata Siecinska (yes! the Polish painter)
A UNIQUE MOMENT OF SUBLIME
PROG
OUVERTURE : LE VIDE HIERATIQUE
1. CHORAL, VOMISSEMENT DEJECTION ET URINEMENT
1ER ACTE : JE SUIS D'AILLEURS
LE MYTHE : MORT. EMBRYON ET CAMELEON. ARRACHEMENT DU MALE DE LA FEMELLE. POURRISSEMENT D'EMBRYON. LA SEVE MONTE DU CORPS DANS LA GORGE. LES INSECTES SONT PLUS NOMBREUX QUE NOUS. LE REVE REEL DE LA DEESSE REVE L'AMOUR DES HOMMES. QUAND IL Y A NAISSANCE OU MEURTRE IL Y A TOUJOURS CE MEME CRI - RITUEL DU CRI.
DU ROUGE AU BLANC DU SANG A LA LUMIERE DE L'OMBRE A L'INTERIEUR DE L'EXTERIEUR : DELIVRANCE. PAYSAGE D'ENFANTS MORTS. HYMNE A L'INTELLIGENCE QUI S'ECHAPPE DE L'HOMME. LE MINERAL DE LA CERVELLE OU LA PENSEE TRACEE D'ILLUSIONS.
2. CHAOS- 3. MEME PAS- 4. THE GODDESS'S DREAM- 5. FESTIVAL OF BORTH AND CRIME- 6. GROWING FROM THE BLOOD- 7. CHILD SPIRIT- 8. HYMN OF MINERAL MIND.

2D ACTE PART 1 : 4 ANONYMES DU XXe SIECLE
L'IDENTITE INIDENTIFIABLE : 9. 1ER ANONYMES DU XXe SIECLE. 10. 2D ANONYMES DU XXe SIECLE. 11. 3E ANONYMES DU XXe SIECLE.

2D ACTE PART 2 : LA COMMEDIA DEL SUONO
PARTS 12 13 14 15 16 17 18. LE RECIT : SON HISTOIRE A ELLE AVEC LUI. CONSTRUCTION D'UNE ORGANISATION SOCIALE. BARRAGE A LA JOUISSANCE. LA COMEDIE DE LA VIE. NOTRE COMEDIE D'EXISTENCE. L4EXISTENCE DE NOS CORPS EXTERIEURS. LA COMEDIE DE L'ANGOISSE DU CORPS INTERIEUR. QUEL PAYS ? NOTRE CHAMBRE DE L'INTIMITE. LE CORPS TORTURE. L'OISEAU ETRANGLE ASSASSINE. JEU. LA MARCHE DES MALES.

FINALE : LA CRUAUTE DU VIDE EN VIE
19. REQUIEM, L'OEIL DE MA MERDE- 20. APPEL DE LA COMMEDIA DEL SUONO- FINAL

POST-FINALE 3E ACTE : FETE
21. VALSE (LA CUERDA)- 22. DJERK (OH MES COLLANTS)- 23. POST-CHAOS DANCE (LUDUS MUSICAE DELIRIUM 72E)
QUOI ?
LE SPECTACULE EST UNE eMOTION PORNOPHONIQUE
Où On ne sait plus QUI EST QUI
QUI ?
EQUIPE DE REALISATION DE L'OPERA SPECTACUL:
réalisation : MATHIUS SHADOW-SKY
masques et costumes : GENEVIEVE BERAIN
affiche-programme et photos : AGATA SIECINSKA
musiciens : OLGA SWAJGIER soprano coloratur, MICHAL ZDUNIAK percussions, TADEUSZ SUDNIK synthetiseur EMS AKS, MATHIUS SHADOW-SKY trombosax, cellocubic, ritual sonic precolombian pottery, pvcsax, nonoctave tubalus, drumming ONO and LULU
avec les participations de :
VIBRAWELL : réalisation des 2 doubles mailloches dures/molles pour frapper alternativement ONO et LULU
STRICHER SA : construction de la cloche géante LULU
FRANS BONHOMME : construction du tambour géant en pvc ONO
MARTIN SAINT-PIERRE : aide à la conception du tambour géant ONO
ROMANA PLESKOWSKA : réalisation de la robe d'OLGA SWAJGIER
GMEB : réalisation de la sonorisation quadriphonique pyramidale, invitation et coproduction du SPECTACUL de MATHIUS SHADOW-SKY
ARCHISONIC
QUAND ?
le 6 juin 1990 à 20h30 à la Maison de la Culture de Bourges
à l'initiative du Groupe de Musique Experimental de Bourges

LINKS:
1988-1990 LA COMMEDIA DEL SUONO album presentation page
Download for free the 1988 album LA COMMEDIA DEL SUONO [zip 52Mo]
First Internet presentation of LA COMMEDIA DEL SUONO show in Bourges 1990
Laboratorium głosu Olgi Szwajgier
Le Laboratoire de la Voix d'Olga Swajgier à Cracovie
The Olga Swajgier Voice Laboratory in Krakow
LA COMMEDIA DEL SUONO, finale [mp3 3.4Mo] composed and performed by Mathius Shadow-Sky and sung by Olga Swajgier in 1988

CENTREBOMBE ENTRANCE
CENTREBOMBE HOME
MATHIUS SHADOW-SKY FREE BOOKS
MATHIUS SHADOW-SKY FREE RECORDS
The MATHIUS SHADOW-SKY's book of music: DANS LE CIEL, LE BRUIT DE L'OMRE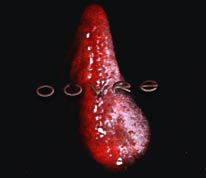 OUVERTURE LINGUALE NECESSAIRE A LA VOCALITE HUMAINE