the Trans-Cultural Syn-phônê Orchestra of Forgues

Syn-phônê NO2, le beau chaos {the beautiful chaos}

TrAcks in this album:

01. ouverture. les souffles du berimbao puis marche vers le chaos. 10:49
02. first movement part 1. arrive derive et suspens vers. 6:59
03. first movement part 2. début de chaos et maîtrise du travail. 2:22
04. first movement part 3. terreur tendre d'affections. 7:19
05. first movement part 4. loin une fête étrange et des rires. 4:54
06. first movement part 5. mélancolie de la Chine australe et éveil. 6:43
07. first movement part 6. la parade du monde danse. 5:28
08. first movement part 7. parle d'amour. 3:14
09. first movement part 8. et les autres. 1:17
10. first movement part 9. dansent. 3:08
11. first movement part 10. et chantent. 3:06
12. first movement part 11. délice du sommeil. 4:18
13. first movement part 12. le drame de l'amour et jouissance. 2:11
14. final. reste d'amour chaos et coda souple. 4:42
_dOWNLOAD : CD cover outlet 1.51 Mo CD cover inlet 1.36 Mo CD label 1.18Mo CD tray inlay card 1.31Mo
_dOWNLOAD the entire 1997 album for free
Musicians who performed at the Syn-phônê NO2, le beau chaos in 1997:
DRUMS:
Alex Piques,
Donus (+ BERIMBAO),
Fabien Duscombs
PERCUSSION:
Thomas Belhom (+ ACCORDION),
David Giron
ELECTRIC GUITAR:
Samuel Rouanet,
Julien Taillefer (+ HARP & TANBURA),
Stephane Marcaillou,
David,
Marco Izard,
Naim Amor (SLIDE GUITAR).
BASS GUITAR:
Babe Falco,
Wiechek Maciolek,
MarkAnge.
SYNTHESIZER, KEYBOARD, ELECTRONICS:
Jean Marc Pédoussaut,
Alain Baudier.
TURNTABLE:
DJ Arnaud.
WIND INSTRUMENTS:
Elisabeth Chauchat (FLUTE),
Eric Pailhé (SAX & FLUTE),
Yannick Puybaret (SAX & TROMBONE),
Anaïs Andret-Cartini (SLIDE TRUMPET),
Alex Piques (TRUMPET),
Lilian Poueydebat (TUBA)
Sébastien Pailhas (TUBA),
David (DIDJERIDOO),
Florent Abadie (SOPRANO SAX).
CHOIR & VOICES:
Stephanie Marchesi (choir director & SOLO),
François Dorembus (choir director & SOLO),
Julia Dorembus,
Pascale Piques,
Nicole Saunier,
La Chorale de Rieumes (20 SINGERS).
STRINGS:
Vincent Favre (VIOLIN),
Roger Cazenave (VIOLIN),
Gérome foucault (VIOLIN),
Pascal Pourré (VIOLA),
Gilles Chadburn (MANDOLINE).
RECORDING: Fabrice Gares.
COMPOSER-CONDUCTOR: Mathius Shadow-Sky.


During the XIIIth festival of Les Arts de l'Etrange, the September 28,1997 in Forgues, France. Produced by Le Centre De La Bombe™.
[Si des amis du Trans-Cultural Syn-phônê Orchestra de Forgues
qui ont participé à la Syn-phônê NO2, le beau chaos et
ont été oublié dans cette liste, faites nous le savoir par e-mail]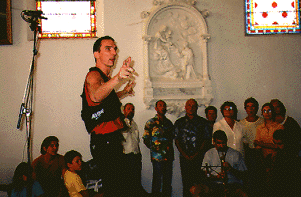 Recorded in the church of Forgues in France by Fabrice Gares
Mastered @ Le Centre De La Bombe
Mathius-Shadow-Sky-Unexpected-Waves-Production
related links
_more pictures from the Syn-phônê NO2
_Syn-phônê NO1
_the Trans-Cultural Syn-phônê Orchestra de Forgues [entrance page]
_Ò
_the Trans-Cultural Syn-phônê Orchestras around the World
in the center of the bomb:

centrebombe entrance
What is le centre de la bombe? Artists-World-Assemble-Exchange
Le Disque du Centre de la Bombe
Les Arts de l'Etrange, le centre de la bombe events' management (in 90s)
to shadow-sky's gigs, concerts, events, opera page (today) GO
le centre de la bombe mapping page in 90s AND today

centrebombe entrance
le grand livre du myster shadow-sky
the myster shadow-sky discography for free download

1997, après le beau son, le beau chaos