AWE
ah oui
AWE/ah.oui
The exploitation of elementary rhythm of matter means human manipulation of time. It can generate love and an atomic bomb and. Our human creation field is vast. What we extract in the Elementary Rhythm of Matter's exploitation from the center of the bomb is the fundamental vibration of life: MUSIC. _
h i s t o r y i d e o l o g y a n d f o u n d a t i o n


the Unexpected nomadic Waves Laboratory exploiting the Elementary Rhythm of Matter
nomadic <> Paris • Toulouse • Miami • Appalachian Mountain • Rio de Janeiro • Montreal • Bali •

Created in Paris in 1980, registered in 1987, Le Centre De La Bombe, was created to support musical Unexpected Playing Audacities or Unheard Cruel Temerities. First located in France then in Poland and United States, Brazil and Canada :


Paris [France] and Warsaw [Poland] 1980-1991, re-Paris in 2001.
Registered in Paris in 1987 as a non profit organization, Le Centre De La Bombe was created in 1980, when the first art-sonic production started: the lamp's music.

Forgues [Southwest of France] 1992-1997.
After Paris, Le Centre De La Bombe was located from 1992 to 1997 between the Basque Country (Atlantic Ocean) and Corsica (Mediterranean sea) in southwest of France.

Miami and Appalachian Mountains [United States] 1997-1999.
In 1997 Le Centre De La Bombe crossed the Atlantic Ocean to land in the USA where this web site was first produced.

Montreal [Canada] 1999-2000.
In 2000, Le Centre De La Bombe opened officially in Montreal (as an OSBL: Organisation Sans But Lucratif) Canada to produce ArtSonic Inflatable Building in collaboration with the Society to Promote Gigantic Art. And in association with CSOR (Circle Square Oval Rectangle), to extend its records distribution and events production in Canada. The first centrebombe Canadian project started with the Trans-Cultural Syn-phônê Orchestra of Montreal then TCSO Quebec in coproduction with the Society of Technologic Art and CSOR.

Rio de Janeiro [Brazil] 1996-2003
1996: collective project for women composers on compact disc.
1998: TCSO do Brazil starts
2000: collaboration with Waldemar Reis, Jorge Ribeiro, Conservatorio do Rio de Janeiro. Electro-sonic inflatable architecture projects for praja de Botafogo and other places.
2003: performances.

Bali [Indonesia] 2002
Short duo recorded [2mn] of trans-cultural music with Ketut Pasih (drummer of Tejacula's gamelan) and Mathius Shadow-Sky playing Turkish clarinet. This meeting was organized by Joni Aryawan.
I Ketut Suwentra, the creator of a giant bamboo orchestra, asked for a collaboration with Mathius Shadow Sky to perform in Paris.

Le centre de la bombe is myster shadow-sky's music, art & architecture non profit organization. With other artists they organize and produce music creation, installation and show. The focus of the organization is to stay independent from other music currents, like the commercial or elitist one and create free Unexpected Art for Everybody. Le centre de la bombe web site shows works done and in project, plus special "webart" pages. It is the place too to listen and download music and albums artwork for free. By extension le centre de la bombe try to be a records label. Le centre de la bombe is an open place for creation that you share with other artists: a place to work with recording equipment, computers, PA, a place to talk freely, a place to take good time.

Unfortunately last few years, le centre de la bombe lost his creation place, and some of its equipment was stolen, like professional equipment for live recording, multitrack recorder, etc. Today, le centre de la bombe try to release the music produced, on CD like for example the collective project "XX century contemporary composers remixed" among other thirty albums waiting in queue. Most today's collaboration are done through internet, because most of the artists got the equipment he/she needs to work: they don't need any organization for that. Le centre de la bombe exists today to keep an healthy spirit (with provocation) or a style of creation among brains eaters by joining together artists on collective projects and to produce myster shadow-sky's creations.

Today in 2002, le centre de la bombe is located in Paris (France).
Today in 2020, le centre de la bombe is located in Toulouse (France).

l e c e n t r e d e l a b o m b e e s t L O I n : u n l a b o r a t o i r e d ' o n d e s i n a t t e n d u e s n o m a d e s

IDEO

LE CENTRE DE LA BOMBE,
la critique de ma raison.

Le centre de la bombe pratique des musiques susceptibles d'accélérer le processus de décomposition de la musique-marchandise et de la musique-élitiste : établi comme des principes culturels.

Le centre de la bombe où l'intuition prévaut sur le mensonge artistique, commercial et politique encourage les esprits libre et éveillés contre l'esthétique élitiste internationale, les fausses réussites publicitaires, les mystifications du conditionnement culturel, la canalisation planétaire de l'imaginaire collectif, l'inflation des musiques standardisées et le confort de la norme des enculturés.

Au centre de la bombe nous essayons de recréer la musique détruite par l'industrie du disque et les élites internationales de la culture qui sont tous deux, le moteur de la normalisation planétaire de l'art et de la musique.

Le centre de la bombe est un lieu nomade d'exploration et de création musicale, ouvert et très attaché à son public.

Re-éduquer. Le public perdu dans la consommation solitaire et surabondante de musiques enregistrées publicitaires qui s'immerge dans l'imaginaire canalisé comme le spectateur d'une autre réalité, où il trouverait son sens mais sans lui-même.

Musiciens, résistons avec souplesse : "[...] dès qu'on fait un pas hors de ce qui a été déjà pensé, dès qu'on s'aventure en dehors du reconnaissable et du rassurant, dès qu'il faut inventer de nouveaux concepts pour des terres inconnus, les méthodes et les morales tombent, et penser devient, suivant une formule de Foucault, un "acte périlleux", une violence qu'on exerce d'abord sur soi-même. Les objections qu'on vous fait ou même les questions qu'on vous pose viennent toujours du rivage, et ce sont comme des bouées qu'on vous lance, mais pour vous assommer et vous empêcher d'avancer plutôt que pour vous aider : les objections viennent toujours des médiocres[...]"
Gilles Deleuze.Pourparlers.1990

Car nous savons que : "la créativité réelle est du côté des étrangers et la culture du côté de ceux qui habitent en marge de la culture sans vivre avec elle... les métèques" Olivier Revault d'Allones.

Nous ressentons le Beau quand notre incertitude sur l'état du monde se réduit : un sentiment de plénitude... tout comme théoriser nous console de l'irrationalité de la nature : on a compris à quoi sert le centre de la bombe ! Re-ouvrir l'imaginaire.

THE CENTRE OF THE BOMB,
the criticism of my reason.

Le Centre De La Bombe trains all sensitive operations to accelerate the process of decomposing merchandise-music and elitist-music: established as cultural principles.

The centre of the bomb, where the intuition prevails over the artistic, commercial and political lying, encourages the free and awakens minds against: the elitist international aesthetic, the amplification of false advertising success, the mystification and the cultural conditioning, the world channeling of collective imaginary, the increase of standardized music and the safety and comfort of norm for uncultured and over cultured people.

At the centre of the bomb, we try to recreate music destroyed by records industry and international elite culture which are both, the world standardization engine of art and music.

The centre of the bomb is a musical exploration and creation nomadic place, open and extremely attached to its audience.

Re-educate. The audience lost by lonely over consumption of commercial recorded music who submerge our self in channelized imaginary like the witness of another reality, where one would find its sense of life but without himself.

Musicians, resist with flexibility: "[...] as soon as one makes a step outside what it was thought, as soon as one ventures outside of recognition and of reassuring, as soon as one has to invent new concepts for unknown lands, the methods and the morals fall apart, and to think becomes according to the expression of Foucault, a "perilous act," a violence that one exercises first on oneself. The objections that one makes you or even the questions that one asks you come always from the shore, and they are like lifesaver that one throw at you, but to knock you out and to prevent you to advance rather than to help you: the objections come always from mediocre persons [...]"
Gilles Deleuze.Pourparlers.1990

Because we know that: "real creativity is on strangers' side and culture on side of those who live on the fringes of culture without living with culture... wops" Olivier Revault d'Allones.

We feel beauty when our uncertainty on world state reduce: wow, it's beautiful, a fullness feeling... like to theorize comfort our self on irrationality of nature: we understood why we need the centre of the bomb! Re-open the doors of imaginary.
THE CENTER OF THE BOMB IS A MUSICAL EXPLORATION AND CREATION NOMADIC PLACE,
A NOMADIC music LABorastory TO SHARE ART WITH EVERYBODY FROM ALL CULTURES
independent since its creation in1980
AWE /ah.oui: ARTISTS-WORLD-EXCHANGE. Within the un-limits of its Transcontemporary World Music, Le Centre De La Bombe provides opportunities for artists to realize project in its Unexpected Flying Music Lab. Le Centre De La Bombe offers an environment for Unexpected Projects suitable for any artist seeking a non-ordinary musical approach.
Artists who would like to share music in collective project,
please send your request to Artists-World-Exchange at centrebombe@yahoo.com
Some Artists who took parts in Le Centre De La Bombe AWE projects in 90s: ALEXIS BOSCH , 2 LAMPLAYERS 5000 YEARS AFTER (France), ONO LULU FILHARMONIA (Poland), S.P.O.R.T., ALOOF PROOF, DJ NERATE (England), LUBOMIR BACKCHEFF (Bulgaria), GIANCARLO SICILIANO (Canada), PHILIPPE COURTOIS, ERIC SAMPIERI, ALFONSO JOSE NUNEZ (Spain), MICHEL PROPILOSKI, MATHIUS SHADOW-SKY, PASCALINA PICA, FABRICE GARES, VINCENT FAVRE, LE BOXON ENSEMBLE, ALEXANDRE PIQUES, ERIC PAIHLÉ, DONUS, PVH (Germany), PHILIPPE LACOTE (Africa), ALAIN BAUDIER, TONY MARCOS, JULIEN TAILLEFER, SAMUEL ROUANET, YANNICK PUYBARRET, LAURENCE MAS, NATHY GRILL, LILIAN POUEYDEBAT, PASCAL POURRE, GAR-P, ANAIS ANDRET-CARTINI, NICOLE SAUNIER, THIERRY VIEL, ELISA TROCMÉ, WIESLAW MACIOLEK (Poland), MALIKA MADACHE, LE ZINGLO, ISABELLE BOUFFARTIGUES, BABE FALCO, MICHEL JIRKOFF, CATHY CROS, MARC IZARD (France), DJ DAVID NICOLAU GERONES (Spain), STEPHANE MARCAILLOU, EVELYNE LEJEUNE, DAVID GIRON, SERGE PLANCHOU, JO FLASH, LIONEL BAYOL-THEMINES, MICHEL RAJI (Maroco), MARITZA MASCARENHAS (Brazil), AGATA SIECINSKA, TADEUSZ SUDNIK, MICHAL ZDUNIAK (Poland), BERNARD GUILLET (India), LE QUATUOR DE GUITARE DE TOULOUSE, THE INHUMAN (Canada/France), THE TRANS-CULTURAL SYN-PHONE ORCHESTRA (international), THE CCMM ARTCHESTRA PROJECT (international)...
sOme AWE /ah.oui Projects released:
• Aloof Sky is the Proof of the Shadow,
duo music with Aloof Proof [guitar] and Mathius Shadow'Sky [cellocubic]. CD # ObCD 20-97 - 56:20.

• The Houston CCMM Artchestrâ,
music by the Collective Composition Music Makers with Chris Theofanidis, Kevin Patton, Robert Boston, Ron Ochoa, Eric Mc Entyre, Carmen Montoya, and led by Mathius Shadow-Sky. CD # ObCD 22-98 - 53:48.
• The Trans-Cultural Syn-phônê Orchestra,
a gathering of musicians from all over the world, genres and cultures perform together a new syn-phônê at each meeting conducted by Mathius Shadow-Sky. CD 1 Symphony NO1, # ObCD 16-96 - 63:18. CD 2 Symphony NO2, # ObCD 19-97 - 66:23.
• Bambx in the Shadow Sky,
musique-concrète piece with Pascalina Pica and Mathius Shadow-Sky. 1996.
• Who Stop Da Beat,
happy hardcore music with DJ Nerate and Mathius Shadow-Sky. 1996.
• Die Kunst Des Chaos,
piano and composition Alexis Bosch, percussion Roland Auzet, double bass Michel Thousseau. CD # ObCD 2T5 - 56:50. 1996.
CD available at AlexisBoschCD at centrebombe@online.fr

• Agata Siecinska Taboo painting
she released between 1992 and 1995 a collection of 12 large painting on taboo subject of our Western civilization
at Le Centre De La Bombe Forgues
• Black and white movie,
directed by Philippe Lacote. 1994
• 2 Lamplayers live,
color video movie by Lubomir Backcheff. 1995
• 2 Lamplayers live in New Europe AD,
color video movie by Philippe Courtois. Figure Libre 1997.
• Virus, sentimental techno piece with Jo Flash and Mathius Shadow-Sky. 1993
• Polski Dramat 78-88,
2 pieces with Witold Szczurek [bass guitar], Tadeusz Sudnik [ems aks], and Mathius Shadow-Sky [electric guitar]. 1988

•
some AWE /ah.oui in preparation:

• Rob & S.P.O.R.T.,
Rob the Canadian spoken word artist, with the next S.P.O.R.T. album,

• 2 Lamplayers 5000 Years After
The third CD of 2 Lamplayers with Vincent Favre.

• Shadow-Sky-Teub-System,
the quadragra-phonic performance and DVD with Emmanuel Sévigny from Montréal.

• 1996-2040: the Trans-Cultural Syn-phônê Orchestra,
the Syn-phônê NO3 in Canada, NO4 in Brazil, NO5 in Québec, NO6 in Chicago, NO7 in Paris, NO8 in New York, NO9 in Lille, NO10 in California.

• I Ketut Suwentra & Mathius Shadow Sky
performing in Paris and Denpasar their combination of giant bamboo orchestra with spatial electronic music.

•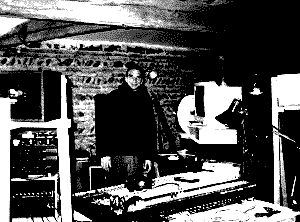 Le Centre De La Bombe's recording mastering and sonic-art creation place in Forgues 92-97
mapping entrances
Some creation RØOMS of the Centre of the Bomb: hide everywhere.
TO SEEK THE UNHEARD, WITH UNIDENTIFIED SONIC OBJECT.
GO to "Exploratoire".
TO GENERATE unheard TRAJECTORIES MUSIC INSIDE BIOSONIC BUILDINGS.
GO to Unexpected Waves Laboratory.
TO BUILD BIOSONIC BUILDING, and, GIANT PUPPETS MUSICAL INSTRUMENT.
GO to Sonic Architecture Research Centre.
TO GET 3D SONIC TEXTILE ON THE STREET.
GO to Voluminous Sonic Textile Research Centre.
TO GET UNHEARD SPACED MOVING MUSIC AT HOME.
GO not yet to 3D Waves Multiplexing Studio.
TO CREATE CRAZY WEB PAGE FOR KNOWLEDGE AND FUN.
GO to Web .Art Lab.

links
Le Centre De La Bombe, past news of this webart-interactive-electronic-book
Le Disque du Centre de la Bombe, the center of the bomb record label
Les Arts de l'Etrange, the center of the bomb live events' management
Who is Who in le Centre de la Bombe ?
Le Centre de la Bombe mapping page
myster shadow-sky's musical history