myster shadow-sky's exploratoire

music is not an art of sound
but an art of muses.
In the center of the bomb,
we create muses,
an art beyond
the extreme edges
of our understandable reality.

the waves generators,
the instrumental part
of the muse are created in
T H E E X P L O R A T O I R E
a necessary adventure outside recognition and reassuring attitude inside the center of these 8 wombs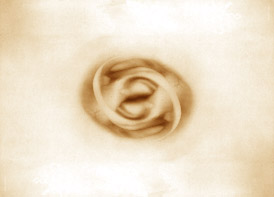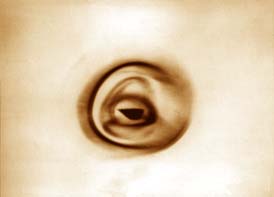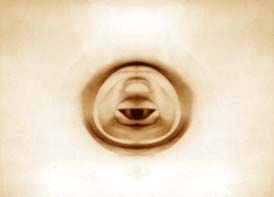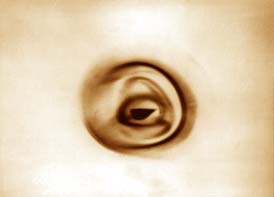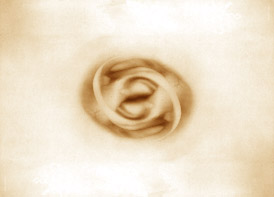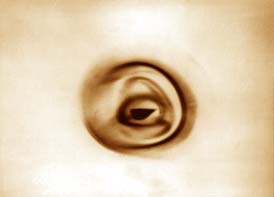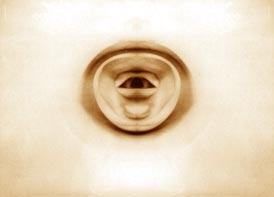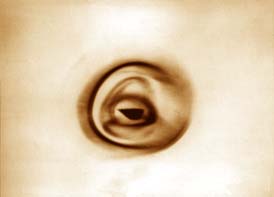 is it a musical instrument?

the first world observation, about waves generators as musical instruments, is
"WHEN ANY OBJECT CAN TELL A STORY, IT BECOMES A MUSICAL INSTRUMENT"
One of our enjoyment is to create, to transform, to combine, to research, and to create instruments to make music. Actual technology gives us many possibilities to do. For example make audible, inaudible vibrations with amplification. Mix acoustic with electronic. Create different technique than playing common one. Combine different kind of materials, shapes, and playing techniques. This, to discover unexpected sounds because we are convinced that with different technique and instrument we produce different music. "The culture of many differences."

All objects around us are a potential of musical instrument. From a simple stone to a complex digital recording studio. Everything is exploitable to produce music. A musical instrument is an object producing music with the help of a musician. When we decompose the musical instrument function we have 4 following characteristics: Material -> Shape -> Action -> Sound. Everything is possible, just find the means.
The Exploratoire is the Unexpected Waves Laboratory
where we discover different extended musical instruments and instrumental techniques
to produce Unexpected Sensations™.
He created PLAINTE CHANTEE D'UN CANARD EXPRESSIONNISTE with a dry sponge used as a bow and playing on big pane of glass. Go 6 ssssssX +2 eX (1979 - 1986)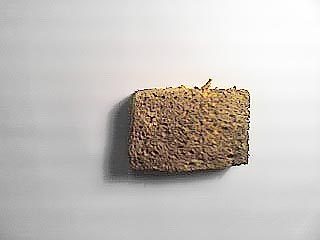 He created PARASITES ELECTRIQUES ET TURBULANTS DANS UN ORAGE MAGNETIQUE with radio waves. A radio for us is similar to a synthtizer. Go 6 SSSSSSeX +2 eX (1979 - 1986)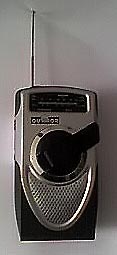 Radios have sounds that are used as musical instrument: the first Mathius Shadow-Sky synthesizer in 1964.
He created PAYSAGE NUPTIAL......LE GRAND SOLITAIRE with a special technique on trombone without mouthpiece. Go 6 ssssssX +2 eX (1979 - 1986) and mouthpiece without trombone or trumpet.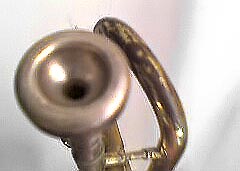 The position, the tension of lips, and the presure of air create a huge variety of sound modulations.
Mute as blowing instrument and acoustic filter.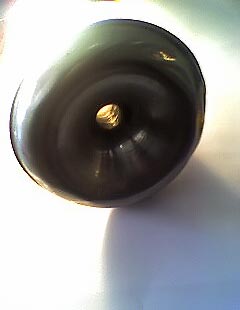 He created LA COMMEDIA DEL SUONO (1988) with a lot of different instruments like the PVC SAX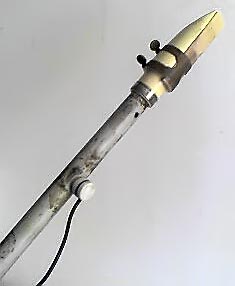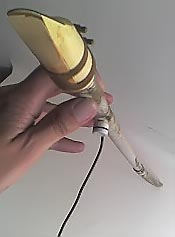 , timpani played with wool cover and hard sticks, a washing machine plate, a car door, a collection of tuned pans, a collection of tuned wood boards, an architect lamp, a contrabass rubber, the Tubalus, the 9-tone electric guitar, particular trumpet technique, etc,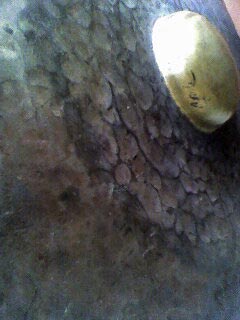 Bali Gong Wadon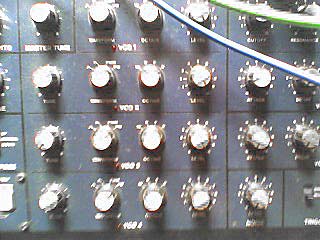 Analogue synthesizer
connected with other instruments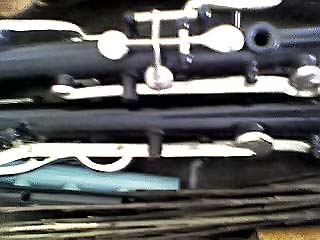 metal clarinette, pipe and sticks.
He created DÏNGX (1985) with special playing techniques applied to the Jean Weinfeld's Fonics: 3 Bauhaus string sculptures.
the Bauhaus Blue Sky Cellocubic, he uses with Aloof Proof.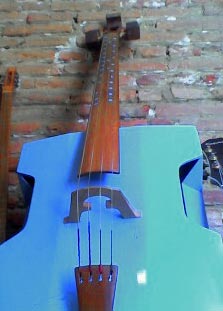 He created IT IS IMPOSSIBLE TO GIVE A TITLE TO THIS PHENOMENON BECAUSE THE UNUNDERSTANDABLE BEYOND THE EXTREMES EDGES OF SPACE AND TIME HAS NO NAME (1983) mixing a classical guitar played with wood stick's too slow bow technique called ARCOGUITAR.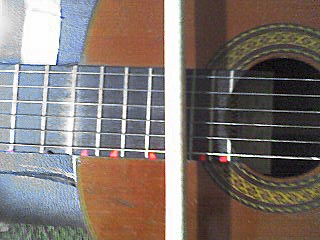 He created LES EXPLORATIONS ST ETHIQUES (1987) with a transformed electric guitar called METEOR (1979)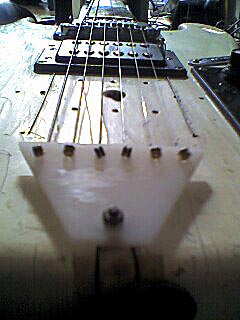 Plexi tailpiece with a bell sound.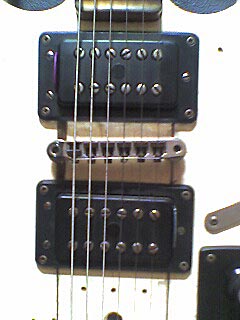 Bridge between microphones gives a string resonnator on the right (tailpiece side), a modification of the 12 tone scale, the combinatory of side playing: left or right of the bridge with left or right microphone or both gives different instrument with "opposite" sounds. This Shadow-Sky-Guitar is connected with: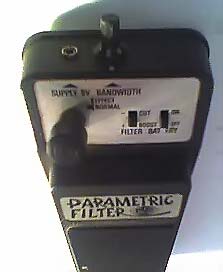 a unique whewhe phoneme variator.
He created CONCERT BOUFFE (1984) music with chairs: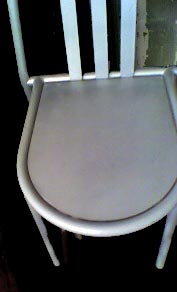 He use chairs as drums. Here this one sound like a bell plus several pitches.
He created CAGE'S MUSIC (1982) music with bird cage. We used the bird cage as a harp: a strong metal or wicker or wood strings to plucked.
etc.
He created the LUDUS MUSICUM DELIRIUM (1980) music with first a simple architect lamp who evolved to a complex musical object assembling different instruments and techniques of playing with 2 LAMPLAYERS 5000 YEARS AFTER (1994 - 2002).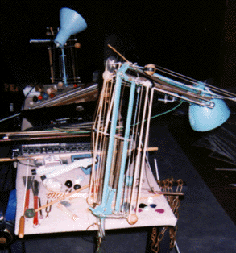 He uses the sampler to create impossible gestures like in ONO JOUE AVEC SON BALLON music with balloon, rip up paper and PVC bass drum (the head of Ono the huge puppet drum), or in STANGE THING IN THE KITCHEN with different kitchen tools, fireworks, slamed door, or in METAL one meter square metal plate to generate with different techniques of playing different sounds at a same time, etc... listen the album STRANGE NIGHT WITH Mr. SHADOW - SKY (1995)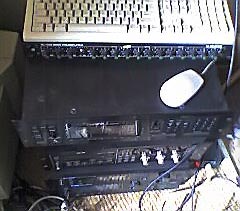 with the two samplers there is a DAT recorder, a MIDI FM synthetiser, a parametric filter, and a Mac computer with Digidesign interface 442, GRMTools 1.51 stand alone, Metasynth, Turbosynth, and other nineties computer programs for music. He uses computers for music.
He microscopes sounds with this contact microphone. Unheard sounds became audible by matter waves captation.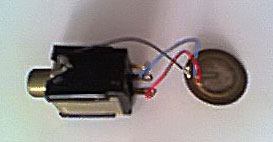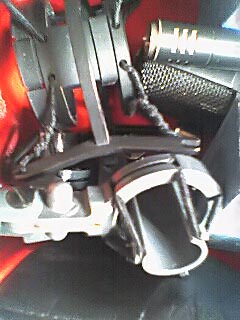 and with air different microphones for air waves captation.
Body sounds with stethoscope with inside the flexible tube: a miniature air microphone. see TENSION (1982)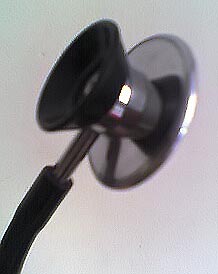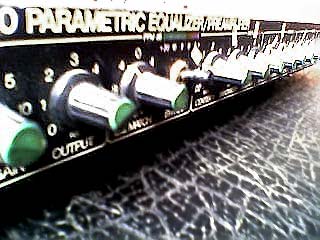 To sound the sound we use "parametric" filters with preamplification.
listen and download these music for free here
We work on extended acoustic techniques with digital devices.
the most sophisticated object ever musicalized: the ARCHISONIC-LAMP of the LAMPLAYER.
"I feel a very strong time presence into your music, some kind of consciousness or memory bringing back feelings linked to childhood : the discovery of the real world, the infinitely small and the infinitely large, the feeling of an inner time, of subterranean times." Pascalina Pica, Intervista, Milano.
listen and download these music for free here
To make the sound flying in 3D space we use the: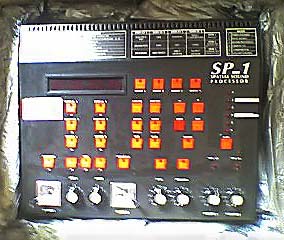 and several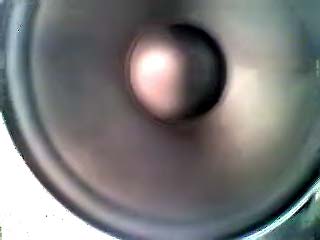 .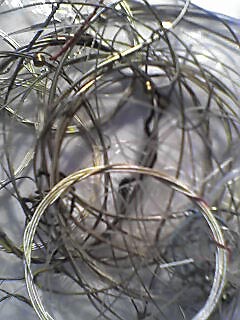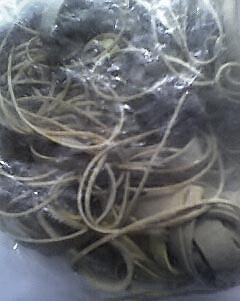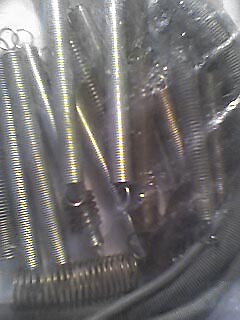 Ready to dress an anglepoise lamp with strings, rubber and springs to become an archisonic lamp.
internal links of the interest:
MUSIC WITH ELECTRONIC DEVICES AND GIANT INSTRUMENTS at the Exploratoire's Lab4:
Giant string puppets musical instruments.

MUSIC WITH CREATED INSTRUMENTS
DINGX : 3 sound sculpture from Bauhaus
PVC-SAX : new and cheap musical instrument
6 SSSSSSeX ± 2 eX : objects as musical instrument
ARCO-GUITAR : classical guitar with particular bow technique
LUDUS MUSICAE DELIRIUM : the beginning of lamp's music
LES EXPLORATIONS ST ETHIQUES : 9-tone electric guitar music

MUSIC WITH MOVING SOUND SYSTEMS The flying sound Laboratory `
¤Ðøð°·±¬µ´->

THE MOST SOPHISTICATED MUSIC WITH COMMON OBJECT
2 LAMPLAYERS 5000 YEARS AFTER : the summit of lamp's music
ONO LULU filharmonia : combining all discoveries

MUSIC WITH a CUBIC CELLO
Mathius Shadow-Sky's Blue Sky Cellocubic from Bauhaus
listen and download these music for free here
and here: myster shadow-sky free discography 1979 - 2014
Les Arts de l'Etranges GO
the Exploitation of the Elementary Rhythm of Matter GO
Le Centre de la Bombe mapping page GO
the disc of the Center of the Bombe GO
the Centrebombe free netlabel recordings archives GO
the centrebombe Space Music Lab GO
LOIn = Laboratoire d'Ondes Inattendues nomades du centrebombe GO
Dans le Ciel, le Bruit de l'Ombre (how to think and make the music?) tout sur la musique du futur GO
HOME GO

Retuned Colombian harp on nonoctave combined modes.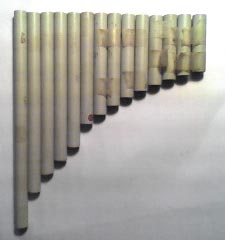 Tuned pan flute on nonoctave scales, made with PVC tubes and modelling clay to fill up holes.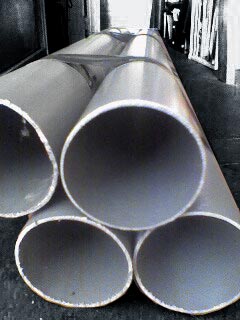 Slap tubes retuned on nonoctave scale too, and performed with ping pong bat.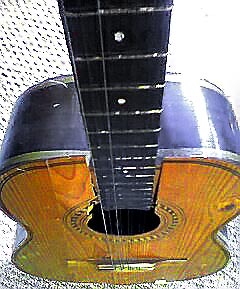 He plays music with also broken instruments like this tiple which it sound particular with whewhe and fuzz pedal pluged in contact mic.